The GIN ACADEMY®
...is an innovative and original concept for team-building, training and seminars.
"The difference is not just in the detail... but much more in the preparation."
It wasn't just a new gastronomy concept that began with the development of our "DRY GIN & BEEF CLUB" idea - we provide much more than the best service in this food & beverage sector and have the highest standards.
In order to build up our leading role and core competence from the beginning, we founded the "GIN ACADEMY" as the basis of our knowledge. Working with our industry partners and delving through the history and the world's oldest gins, we began a fabulous journey that we're still on today.
We've also been able to build our own BOTANICAL GARDEN. Since then, we've been training service personnel and bar workers in our GIN ACADEMY, organising various tasting sessions and seminars, as well as first-class events for anyone who is interested.
This unique BOTANICAL GARDEN CONCEPT is what is known as an "edible garden", which we are implementing and integrating into all of our worldwide "DRY GIN & BEEF CLUB" venues, where our visitors can tread, feel, smell and taste.
Here, we also use modern methods such as VERTICAL FARMING, INDOOR GROWING and PLANT CUBES.
GIN SOMMELIER
Between 1984 and 1987, Marius Breitenberger completed his apprenticeship as a hotel specialist at Otto Geisel's "Hotel Victoria" in Bad Mergentheim. There, he was trained in the hotel bar, among other things, under the instruction of Charles Schumann and received his first ever training in cocktail mixing.
In Hamburg, he completed an intensive course in "American Classic Cocktails", "Tiki Cocktails and "Mexican & Cuban Cocktails" at the city's bartender school.
Since 2008, he has run the Stuttgart restaurant "Ampulle" from host Mr. Michael Wilhelmer, which evolved into the "Dry Gin & Beef Club" in 2015. As master of over 250 gin varieties from the world over, he passed on his enthusiasm for the trendy drink by feeding them various gins. After intensive self-study of gin, he had the opportunity to get to know the producers and their distilleries at home and abroad and deepen his knowledge about the drink.
In the meantime, he is being booked for events across the German-speaking world, where he gives guidance on menus with gin as a gin sommelier and organises gin tastings and workshops.
His passion is founded on the intricacy of gin. His tasting sessions touch on many exciting topics such as alchemists' old healing arts and herb witches, the history of Europe and its spice trade with overseas colonies, and how gin spread out across the world from Great Britain. He is also fascinated by the aromas of herbs, fruits, gins and tonics, which combine to create new and surprising taste experiences.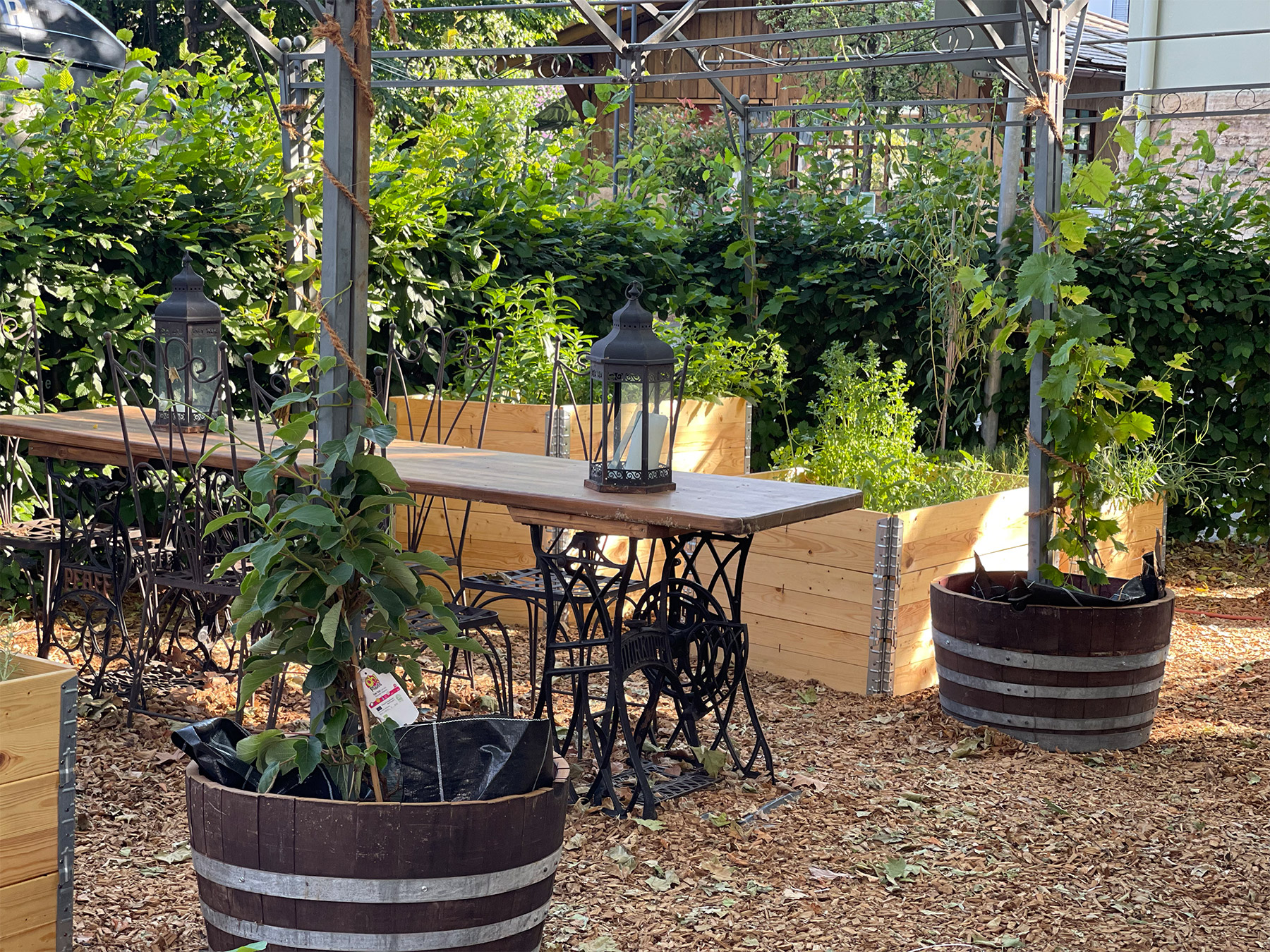 A Sea of Flowers in the Summer and Icy Nights in the Winter
You'll blossom in Stuttgart's botanical garden! Organic herbs and aquatic plants, juniper berries, woods and roses - a botanical garden in French art nouveau style! "The World of Gin in a Garden" - this was the idea for a herb garden for our Gin Academy at the Stuttgarter Schlachthof in 2021. More than 30 plant species from all sections of gin culture bloom and spread there scent on the site. You can feel like Gulliver in the botanical garden and experience and enjoy the world of herbs' flair.