Dry Age Beef
The focus is our select meat specialities in our dry ageing cabinet. Here, our sumptuous meet is stored with very low humidity (dry), giving it its very special taste. Whether Herford Irish Prime, Nebraska Angus
Pomeranian Rib Eye Dry Age, Canadian Tomahawk or Morgan Ranch's Wagyu Beef, all our matured steaks are prepared on our 600ºC grill.
This grill uses unique technology and mechanics which stops all residues including fat drip into the flames and produces very little smoke.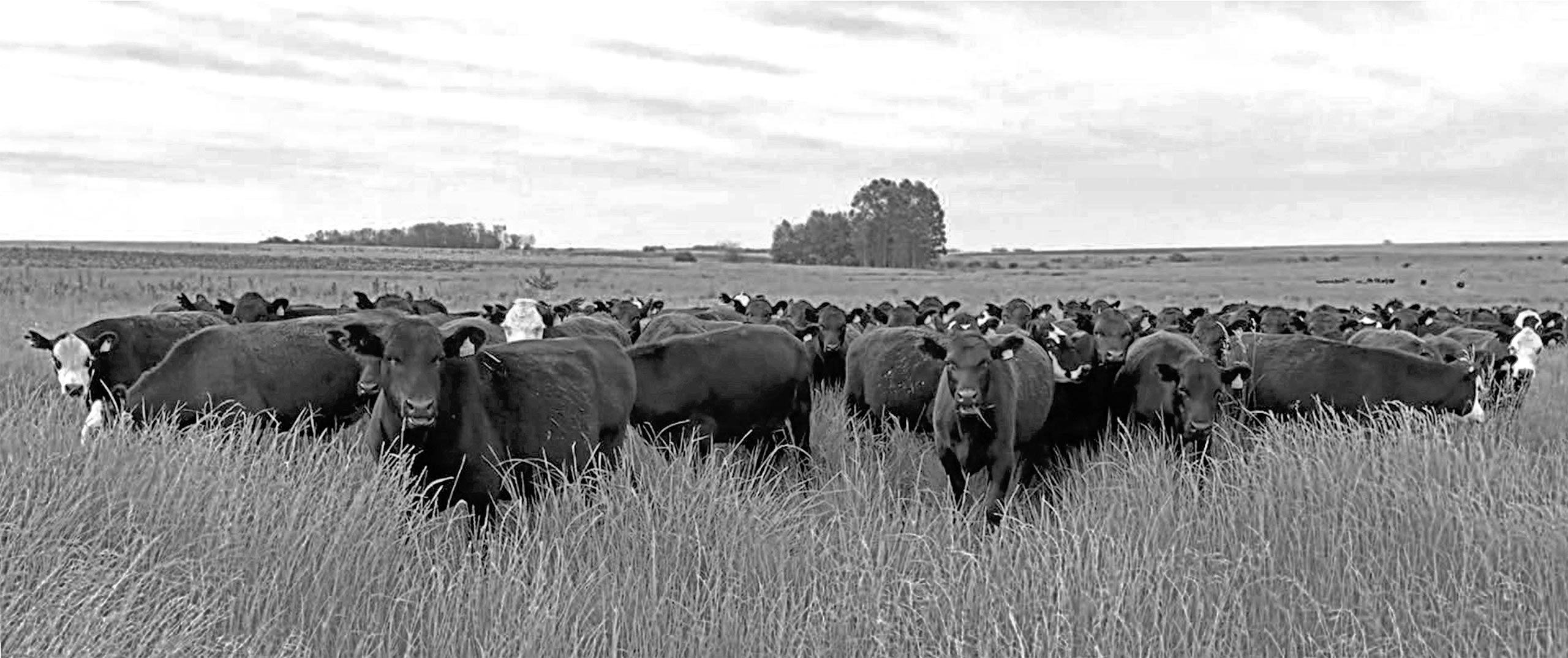 6 Weeks Dry Aged
We only use meat from hand-picked bullocks from northern Germany for our "Wilhelmer's Mastercut Dry Age" range. These bullocks are 100% premium quality. With 42 days of constant maturing on the bone, we achieve a completely unique taste for our meats.
Wilhelmer's quality of life in both senses of the word, because our beef is 100% natural. Beef like this can only come from bullocks who have lived with their fellow species out in nature.
A LITTLE MEAT LORE
Cuts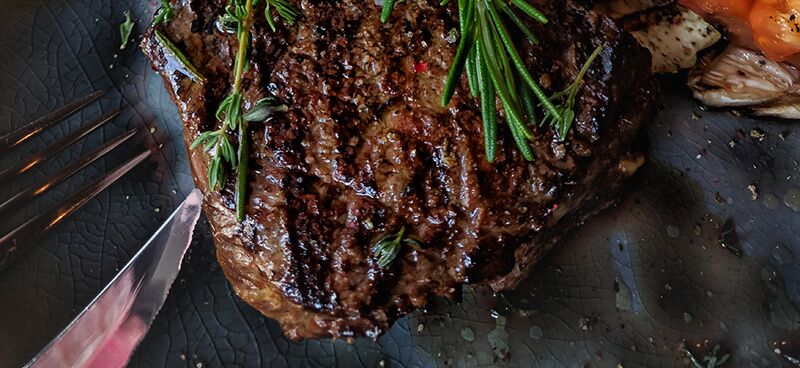 Strip Loin (Rump steak)
A lean cut that stays nice and juicy thanks it is characteristically small fat edges.
Tenderloin (Filet)
A muscle that is rarely used by the cow, making it particularly soft.
Rib Eye (Entrecôte)
The highlight of the steak family with its juicy fat beads.
T-bone (Roast beef)
T-bone roast beef with low fat content on classic t-shaped bone.
Tomahawk
A rib eye with an extra long bone. It consists of three muscles cut from the upper back (prime rib), the cut has a tender structure and cannot be topped on its juiciness.
Cooked to your liking...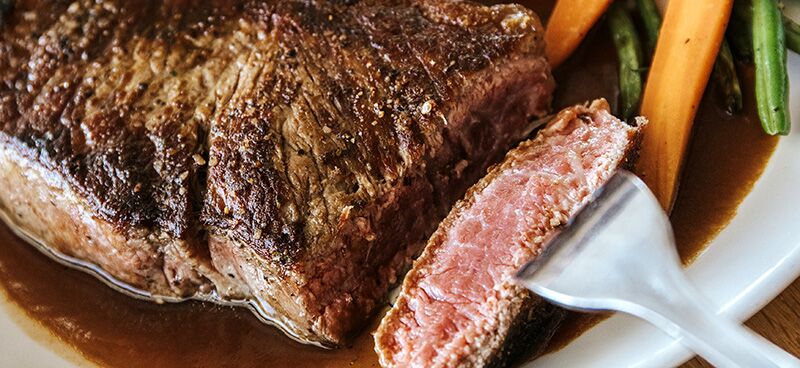 black & blue
grilled on the outside only so that it remains raw on the inside.
rare / very bloody
well seared. maximum internal temperature between 45-50ºC, still raw.
medium rare / bloody
fried at medium heat so that the centre reaches internal temperatures of 50-54ºC, making it still appear bloody.
medium / pink
cooked "to the point" on a medium heat to an inside temperature of 54-56ºC max, coloured pink from the outside in.
medium / well-done
fried slowly on a small fire so that the centre is only slightly pink in colour.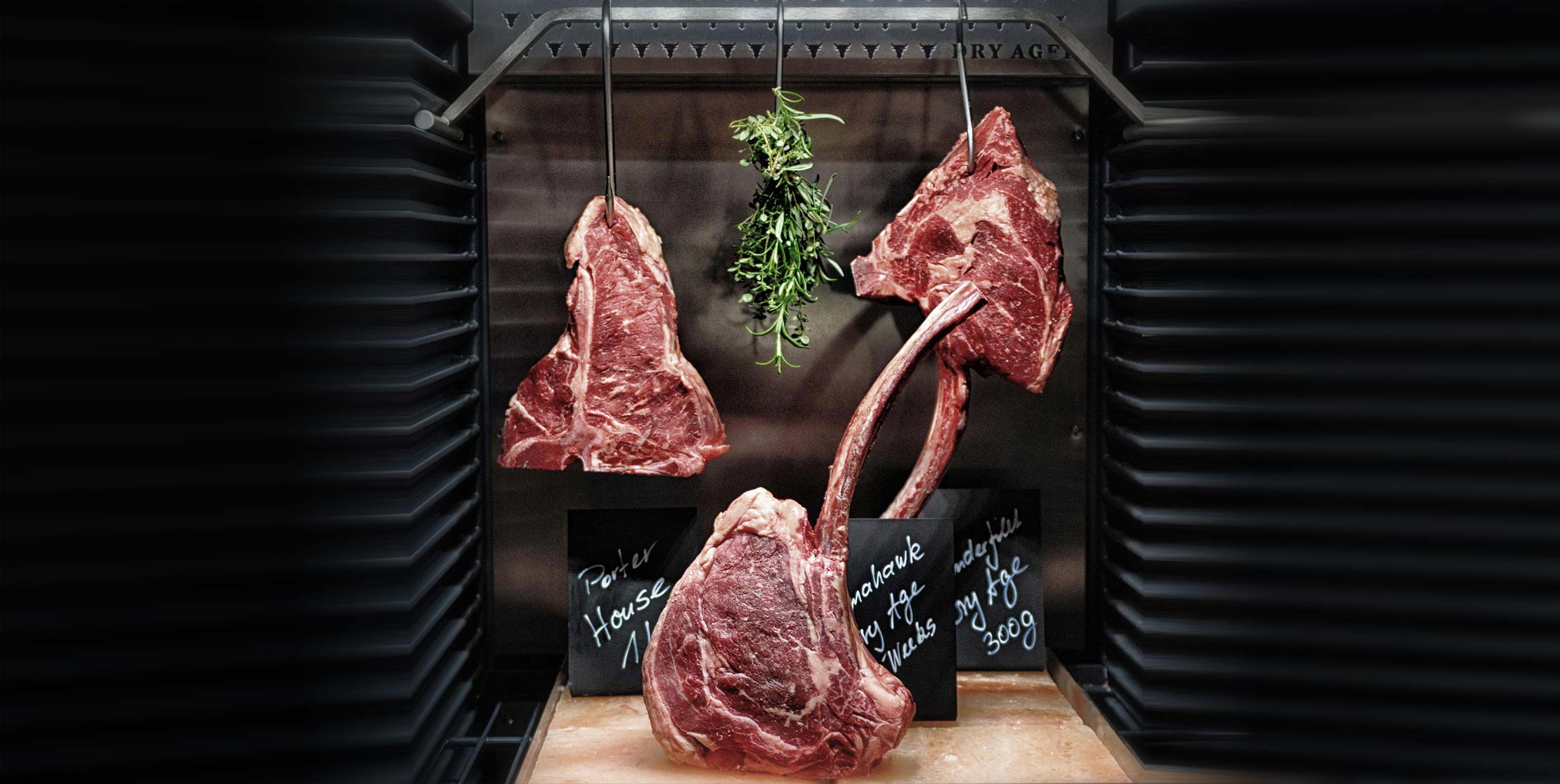 Dry Ager Maturing Cabinet
Dry Ager Maturing Cabinet
The beautiful, Dry-Ager maturing cabinet selected for our specialities is an absolute eye-catcher in Ampulle. Here lies the secret of Dry Aged Beef. Dry Aged maturing in low humidity (approx. 60%) and an ageing period of 21 to 48 days create the ideal conditions for making the delicious meat durable, allowing it to develop its special taste.
The grill's classic aroma and the additional aromas added through various woods and shavings, such as from old barrique wine barrels or various trees, reach the meat and remain in its pores, further refining its taste.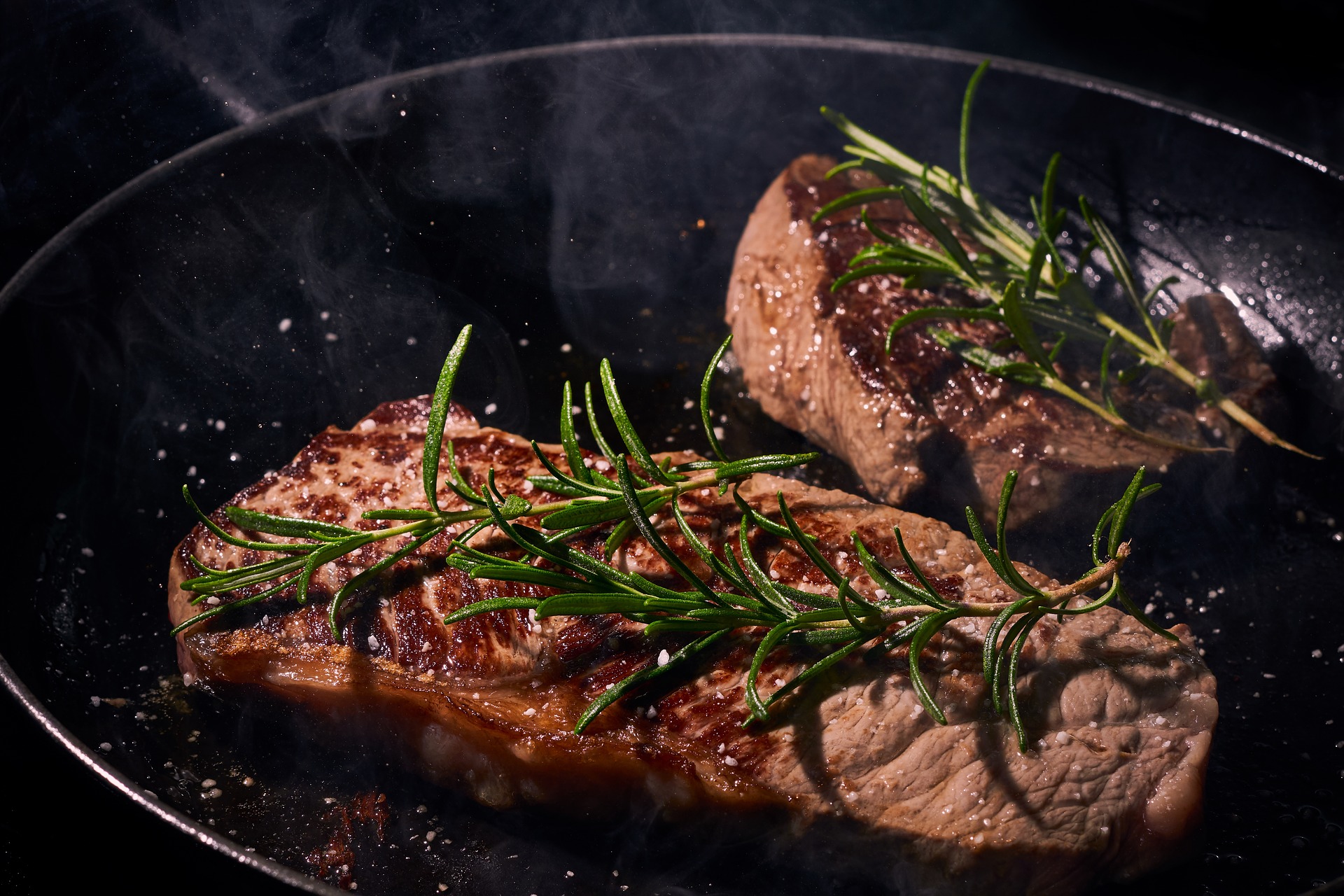 Lunch - Steak Specialities
Lunch - Steak Specialities
With our own, self-developed sauces and dips that go perfectly with beef. Try our specialities cooked with juniper berries which are the perfect complement to gin: gin-glazed Duroc pork ribs, "Classic Beef Tea" soup with Monkey's 47 gin & juniper tea bags. What's more, our menu offers specialities like Burger & Lobster Day or the club classic Wilhelmer's smoked beef burger and Gin & Beef menus that change every week - there's something for every connoisseur.
Of course, you mustn't miss out on the delights of good Swabian cuisine, either. The "Stäffele" menu offers regional dishes such as homemade Maultaschen, Bubenspitzle, various Spätzle dishes, Ofenschlupfer and many more of Baden-Württemberg's typical dishes. Enjoy the best of regional cuisine.